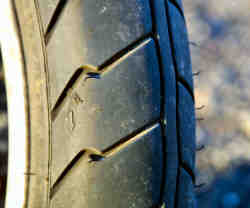 Although originally fitted with Dunlop tyres I prefer Michelin Macadams which I believe give better grip and wear well.
I expect to get around 6-9,000 from a rear tyre and maybe up to twice that from the front.
If you are experiencing excessive steering shake it is often worth replacing the front tyre.
The front tyre size is 110 x 80 VR18 and rear is 150 x 80 VR 16
Tyre pressures vary depending depending on load and country of origin
The manual suggests 36 psi for the Front and 41 psi for the rear for most countries
Michelin once told me to try 32 psi in the front and 36 psi in the rear (presumably only for their tyres).

The following table shows the rate of tyre wear I have experienced over the many years I have been riding GTR/Concours bikes. The average rear tyre lasts 5,745 miles and a front one 9,954 (somewhat distorted by the amazing 17,848 miles from an early Avon front tyre - I only changed it because it was beginning to perish!
There doesn't seem to be a conclusive winner in terms of longevity (mainly because so many of the tyres have been Michelin) - I can say I have found the Macadam 50 to be particularly prone to wear (but then they are much cheaper than the 90/100s)
Tyre wear chart for Kawasaki GTR 1000 / Concours
Date
Fitted

Front/
Rear

Maker

Type

Miles

End
Condition

Miles/mm

199309

F

Avon
ST22

17848

2.5mm

11898

199404

R

Dunlop
700G

7667

1mm

1277

199410

R

Dunlop
700G

4712

2mm

942

199502

F

Dunlop
700G

7546

2mm

3773

199502

R

Dunlop
700G

7546

1.5mm

1372

199508

F

Avon
Venum

13245

2mm

4415

199508

R

Avon
Venum

5444

0mm

680

199511

R

Michelin
Macadam

7148

1.2mm

1348

199602

R

Avon
ST23

4621

2mm

1320

199606

F

Michelin
Macadam

12137

0.5mm

3467

199606

R

Michelin
Macadam

6690

1mm

1216

199608

R

Michelin
Macadam

3496

4mm - Punctured

1398

199609

R

Michelin
Macadam

8796

1mm

1599

199705

F

Michelin
Macadam

8612

1.6mm

3588

199706

R

Michelin
Macadam

4931

1.6mm

1006

199707

R

Michelin
Macadam

7445

0mm

1145

199709

F

Michelin
Macadam

7797

1mm

2599

199801

R

Michelin
Macadam

3279

4mm

1311

199805

R

Michelin
Macadam 50

3563

0mm

509

199807

F

Michelin
Macadam

6638

2mm

3319

199807

R

Michelin
Macadam 90

6638

0mm

1021

199810

F

Michelin
Macadam

6413

2mm

3206

199810

R

Michelin
Macadam 90

6413

0mm

986

199906

F

Michelin
Macadam 90

11769

1.2mm

4203

199910

R

Michelin
Macadam 90

6067

0mm

933

200005

F

Michelin
Macadam 90

12831

0.5mm

3666

200005

R

Michelin
Macadam 90

7811

0mm

1201

200007

R

Metzeler
MEZ2

6279

1mm

1141

200009

F

Metzeler
?

5792

2.5mm

3861

200103

R

Michelin
Macadam 90

858

5.3mm - Punctured

715

200111

R

Michelin
Macadam 90

5578

1.2mm

1052

200204

F

Dunlop
K105F

7022

1.4mm

2700

200205

R

Michelin
Macadam 90

5414

1.1mm

1002

200209

F

Michelin
Macadam 100

11752

1.8mm

4352

200209

R

Michelin
Macadam 100

6587

1.0mm

1197

200306

R

Michelin
Macadam 100

5165

2.5mm

1291
Date Fitted - the Year and Month the tyre was fitted to the bike
Type - As much information as I have - I didn't used to note the particular type of Macadam
Mileage - The number of miles the tyre covered before being changed - on its own this figure does not give a good indication of tyre life as sometimes tyres are worn out when changed and sometimes they are changed early (before a major trip perhaps)
End Condition - milimetres of tread left
Miles/mm - a guide as to how well the tyre has worn - a high figure is good - this figure is calculated by taking the final tread depth in mm from the tread depth when new and dividing the mileage covered by the tyre by this "tread used" figure

Tyre wear chart for Kawasaki GTR 1400
Date
Fitted

Front/
Rear

Maker

Type

Miles

End
Condition

Miles/mm

200804

F

Bridgestone
BT021

8021

2.0mm

4010

200804

R

Bridgestone
BT021

3946

?mm

-

200806

R

Bridgestone
BT021

4075

0.5mm

679

200810

R

Avon
AV56

2595

1.0mm

447

200810

F

Avon
AV55

2595

2.0mm

1621

200902

R

Avon
AV56

2576

?mm

-

200902

F

Avon
AV55

2576

?mm

-

200905

R

Avon
AV56

3586

1.5mm

676

200905

F

Avon
AV55

6552

?mm

7280

200911

R

Avon
Angel

2966

1.7mm

605

201006

F

Michelin
Pilot Road 2

5922

2.4mm

3701

201006

R

Michelin
Pilot Road 2

5922

2.0mm

1345

201009

F

Michelin
Pilot Road 2

3573

4.2mm

35730

201009

R

Michelin
Pilot Road 2

3573

3.8mm

1374

201103

F

Bridgestone
BT021

5218

1.9mm

2609

201103

R

Bridgestone
BT021

4410

-1.0mm

630

201107

R

Dunlop
Sportmax Qualifier

1341

3.1mm

462

201108

F

Dunlop
Sportmax Roadsmart

7452

1.9mm

3726

201108

R

Dunlop
Sportmax Roadsmart

3757

1.9mm

894

201203

R

Dunlop
Sportmax Roadsmart

3162

1.2mm

632

201209

F

Bridgestone
BT023

9390

2.6mm

4942

201209

R

Bridgestone
BT023

2032

3.0mm

677

201301

R

Bridgestone
BT023

3586

1.0mm

717

201307

R

Bridgestone
BT023

3772

1.0mm

725

201402

F

Bridgestone
BT023

4820

2.0mm

1928

201402

R

Bridgestone
BT023

4820

1.0mm

964

201409

R

Bridgestone
T30

2955

1.9mm

642

201409

F

Bridgestone
T30

6920

2.0mm

3460

201507

R

Bridgestone
T30

3965

1.6mm

809

201605

F

Bridgestone
T30

8465

1.0mm

2821

201605

R

Bridgestone
T30

4244

1.0mm

771

201507

R

Bridgestone
T30

3965

1.6mm

809

201709

F

Bridgestone
T30

3795

2.7mm

2919

201709

R

Bridgestone
T30

3795

1.8mm

807

201805

F

Bridgestone
T30

-

?mm

-

201805

R

Bridgestone
T30

-

?mm

-